Welcome Music Session mit Saliou Cissokho
Welcome Music Session | Opener: Saliou Cissokho
12. Oktober 2023 | 20 – 23 Uhr
Im Oktober eröffnet Koraspieler Saliou Cissakho die Welcome Music Session.
Saliou Cissokho sagt: "Hier in Europa bin ich Musiker, aber in Westafrika bin ich ein Griot". Griot (ausgesprochen Griu) sind die Hüter der Gesellschaft, sie nähren die Seele und verbinden sie mit Musik. Salious Familie spielt seit 800 Jahren Kora.
Bau und Spielkunst dieser afrikanischen Harfe erfordern eine tiefgehende und disziplinierte Auseinandersetzung mit den musikalischen Traditionen Westafrikas. Der Klang der Kora erfüllt jeden Raum und Körper mit feiner, gefühlvoller und meditativer Vibration. Es heißt, keiner kommt zur Kora, die Kora entscheidet, wer zu ihr kommt.
Und sie hat entschieden, dass ihr am 12. Oktober zu ihr in die Welcome Music Session kommt 😉
Im Anschluss sind wieder alle auf der Bühne willkommen!
Eintritt frei – Spenden willkommen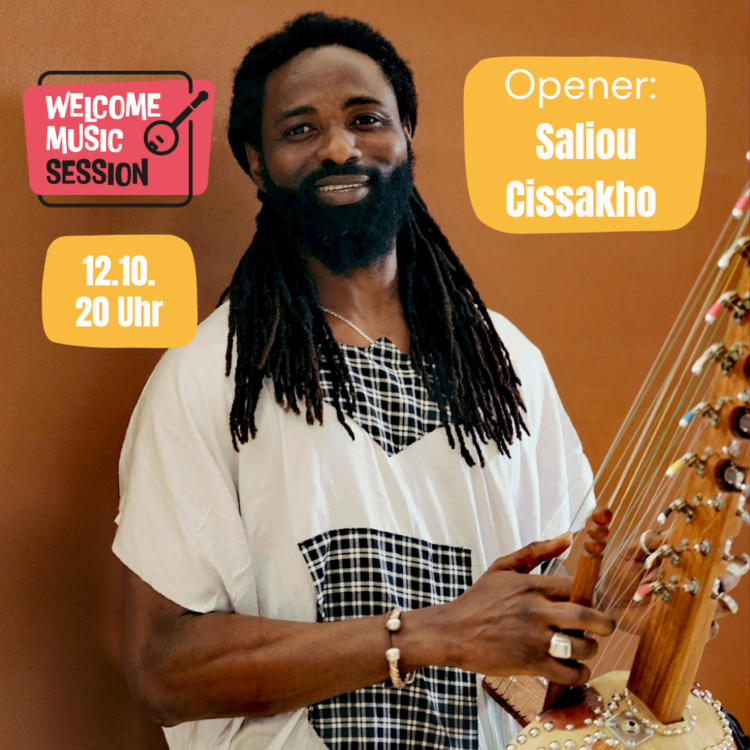 *** ENGLISH ***
This month's Welcome Music Session will be opened by kora player Saliou Cissakho.
He says: "Here in Europe I am a musician but in Westafrica I am Griot". Griot (pronounced griu) are the guardians of society, they norture the souls and connect them with music. Salious family play the kora for 800 years.
Construction and play of this African harp require to delve into the musical traditions of Westafrica. The sound of the kora fills every room with emotional and meditative vibration. They say: you don't come to the kora, the kora decides who is coming to her.
And she decided that y'all coming to her at Welcome Music Session 😉
After the opening everyone is invited to join the stage!
Free entry – donations welcome