Zurück aus der Sommerpause! Welcome Music Session mit RITM-X
Welcome Music Session | Opener: RITM-X
14. September 2023 | 20 Uhr
Wir sind aus der Sommerpause zurück und freuen uns auf die erste Welcome Music Session im Herbst.
Die Session wird von RITM-X eröffnet. RITM-X spielt einen Mix aus verschiedenen Musikrichtungen. Um Khayrullo Dadoboev, den Multipercussion-Solisten aus Tadschikistan, der ein gern gesehener Gast der Welcome Music Session ist, gruppieren sich drei weitere Musiker*innen:
Uta Schilling arbeitet seit mehreren Jahren mit Khayrullo auf der Bühne zusammen und ergänzt ihn mit Doyra, Drum Set und Vocals. Yahya Issa ist ein syrischer Oud-Spieler der sich in der klassischen arabischen Musik zuhause fühlt und Micha Zorn spielt E-Gitarre und begeistert sich für Death Metal.
Daraus entsteht eine seltene Synthese aus klassischen Klängen des Orient und modernem Rock.
Die Gruppe hat sich dieses Jahr in dieser Konstellation zusammengefunden und wird als Opener unter anderem eine erste Eigenkomposition auf die Bühne bringen.
Im Anschluss sind wie immer alle auf der Bühne willkommen.
Eintritt frei, Spenden willkommen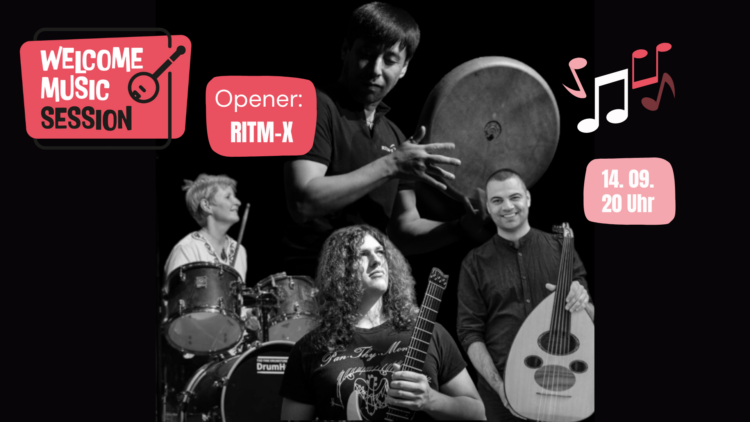 ***ENGLISH***
We're back! Our first Welcome Music Session after the summer break will be opened by RITM-X.
RITM-X play a mixture of diverse musical styles and consists of four distinct musicians. Khayrullo Dadoboev is a multipercussionist from Tadschikistan who is a well known guest at the Welcome Music Session. Uta Schilling completes Khayrullo on stage with Doyra, drums and vocals. Yahya Issa is a Syrian Oud player who is at home in classical Arab music and Micha Zorn is an electric guitar player with fascination for Death Metal.
This ensemble creates a seldom fusion of traditional oriental sounds and modern rock. The group formed this year and will play first original songs at this Welcome Music Session.
Afterwards everyone is welcome on stage – as usually.
Free entry, donations welcome.