Welcome Music Workshop: Folklieder und traditioneller Gesang aus der Ukraine
Kreis der Familie – Folklieder und traditioneller Gesang aus der Ukraine
Sa, 25.11. | 11 bis 16 Uhr |Teilnahmegebühr: 10 Euro
Anmeldungen per E-Mail an: info@welcome-music-session.org
Eintauchen in die Liedkultur der Ukraine –in diesem fünfstündigen Workshop lernt ihr ukrainische Folklore zu singen.
Die ukrainischen Sängerinnen des Ensembles Rodovid zeigen Übungen, mit der die Rhythmik und Melodik ukrainischer Lieder erarbeitet werden können. Atemübungen helfen dabei, eine helle und sonore Stimme zu finden.
In Gruppen wird die einzigartige Vielstimmigkeit des ukrainischen Liedes nachempfunden.
Zum Abschluss wird gemeinsam musiziert und die erlernten Lieder bei einem kleinen Konzert gesungen.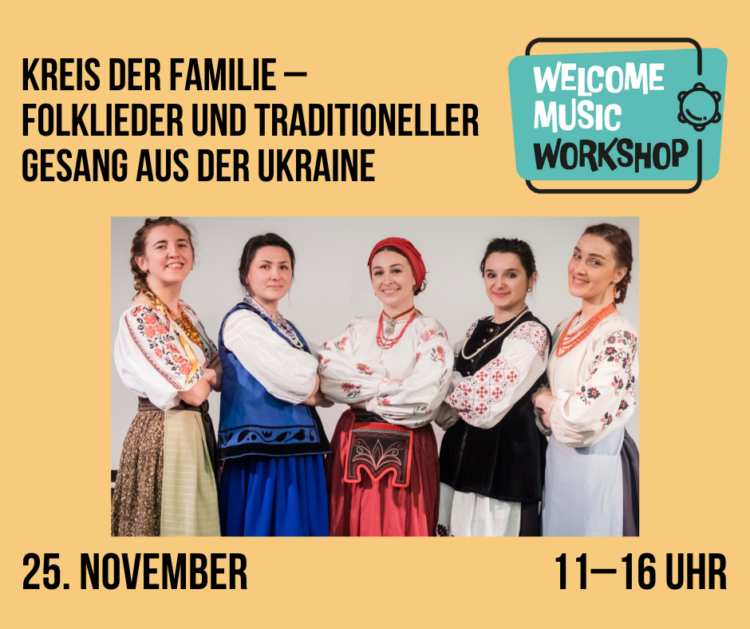 ***ENGLISH***
Immerse yourself in the song culture of Ukraine – in this five-hour workshop, you will learn to sing Ukrainian folklore. The Ukrainian singers of the ensemble Rodovid will demonstrate exercises that can be used to work on the rhythm and melody of Ukrainian songs. Breathing exercises will help you find a bright and resonant voice. In groups, you will replicate the unique polyphony of Ukrainian songs. To conclude, there will be a collaborative musical performance, with the learned songs being sung in a small concert.